View all posts
Benefits of a Home Equity Line of Credit (HELOC)
09/27/2022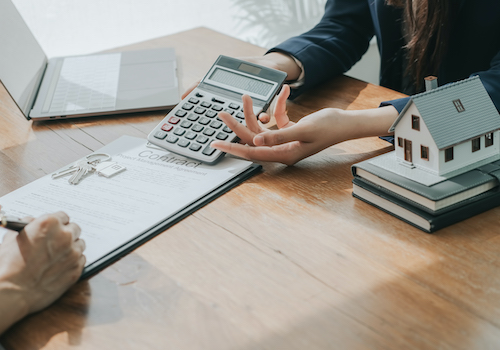 Benefits of a Home Equity Line of Credit (HELOC)
As a homeowner, you're most likely going to build equity in your home. Over time, you can use that equity to your advantage. From using it as a down payment on a new home to doing renovations, there are many ways you can tap into your home equity.

One of the best ways to tap into your equity is through a home equity line of credit.
What is a home equity line of credit?
A home equity line of credit (HELOC) is a loan that is offered based on the equity you have in your home.Your equity is the difference between the appraised (or market) value of your home and the balance owing on your mortgage.
What are the benefits of a home equity line of credit?
Home equity loans and home equity lines of credit are popular among homeowners for many reasons. Here are some of the top benefits of a HELOC compared to other financing options.
Lower interest rates
A home equity line of credit is considered a secured loan. Since the loan uses your home as collateral, you'll typically be offered much lower interest rates. Especially when compared to credit cards or other personal loans.
HELOCs typically have variable rates, so the rate may rise or fall depending on current interest rates.
Flexibility
One of the great things about a HELOC is the flexibility. There are no stipulations for what the loan can be used for. Repayment is also simple since you typically start with interest-only payments.
Many home equity lines of credit also don't require you to use them – you can simply keep one open for a rainy day. You'll only pay interest on funds that you use.
Larger loans
The amount you're eligible for will depend on the equity you have in your home Typically, the longer you've owned your home and the more you've paid off your mortgage, the larger your HELOC.
The final amount is usually determined by your current debt to income ratio.
Using a home equity line of credit.
A HELOC is extremely flexible, in that you can use the funds for almost anything. However, there are some key reasons homeowners take out a home equity line of credit.
Make a large purchase
The low interest rate makes a HELOC an attractive option for homeowners looking to finance any large purchases. This can include anything from a new vehicle to financing higher education.
It's best to reserve these funds for necessary investments that you can comfortably pay back. A HELOC is secured to your home, so defaulting on payments could put your home at risk.
Finance a renovation
Home equity lines of credit are a great way to access cash for a home renovation. In addition to necessary improvements, many upgrades can also increase the value of your home.

For example, bathrooms and kitchens typically see the best return on investment when it comes to home upgrades. If you're considering using your HELOC to upgrade your home, an experienced real estate agent can help you determine which projects will provide the best chance of improving resale value.
Consolidate debt
Homeowners with credit card debt or other loans can use a HELOC to help consolidate their debt. Moving everything into one loan can make it easier to keep track of any outstanding debts.

The lower interest rates available for HELOCs will also help you save on the cost of borrowing.
The bottom line
Home equity lines of credit are a fantastic resource for homeowners who need access to additional funds. However, keep in mind that HELOCs are secured by your home, so it's important to use the money responsibly.
When applying for and using a HELOC, make sure you speak to your lender to make sure you understand the details around your specific loan.
Capitol Credit Union Can Help
Capitol Credit Union has an experienced team of home equity professionals ready to serve you.
If you have any questions or would like to apply, you may call us at (512) 477-9465 or visit our website at www.ccutx.org.